Infected by Art Volume 6 Has Gone To Print & We're Ready to Take Pre-Orders
Posted On: 8/13/2018 2:40:00 PM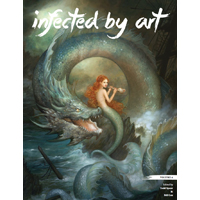 Every volume of Infected by Art is a journey I enjoy taking and it's with great pleasure that today I can confirm Infected by Art 6 has gone to print. We received our final IBA 6 proofs last week including the IX Arts dust jacket and our publisher, ArtOrder, has done another incredible job and have proven again to be a great partner for our annual competition.
For the true book collector, we're also creating an IX Limited Edition cloth bound volume of Infected by Art 6. This edition of 100 will come also come with the IX dustjacket and include a signed and numbered bookplate. This LE version will first be available exclusively to IX 11 attendees, with any copies not sold at IX 11 to retail in our online store at the conclusion of IX 11 in late October.
USA Pre-orders for Infected by Art Volume 6 will be handled at the following link:
With this volume, we're going to be trying something new in order to get IBA 6 to our international customers more affordably. For those buyers outside the US who pre-order IBA 6, we're going to be fulfilling your orders from ArtOrder's UK office. This means cheaper shipping to the UK, all EU locations, Canada, South America and even Australia. In some cases, this translates to cutting our shipping rates nearly 50% which is pretty dramatic. It is still not anywhere near what shipping to a US address is, but it is more favorable to our international customers. If this goes well we will look into similar opportunities when volume 7 gets close to pre-order, and also look for ways to get back issues of IBA to the same fulfillment partner to allow those of you who have passed on earlier volumes due to the international shipping rates from the USA. Our storefront cannot adjust to these lower shipping rates so we've created a special page on our website to take International Pre-orders:
With that being said, we must stress that you need to pre-order Volume 6 to get these reduced shipping rates. We will only ship enough books from our printer to the UK fulfillment location to complete the International pre-orders we receive. We will close the pre-order sales period a few days prior to the books leaving our printer, and we expect this to occur by
September 1st
. If you are an International book retailer and would like to order books wholesale from us please email us (
bill@infectedbyart.com
) for more information on our purchase requirements.
Once the pre-order period has officially closed all IBA 6 orders will only be available from the Infected by Art Shop (
https://shop.infectedbyart.com/
) at the normal shipping rates. During this pre-order period, we will also be offering all our past volumes at very reduced prices as well since we'll need to make more space in our storage facility once Volume 6 arrives. Past volumes are now discounted up to 40% during the pre-order period so it's a great opportunity to fill any holes in your collection!
We hope you're as excited about these changes to our competition as we are. Each year our goal is to improve at each facet of our competition whether it is the quality of the book, the ease of our submission process, or the timeliness of our results. The 7th Annual Infected by Art competition is just around the corner, with the start of the submission process in early September. We'll be making another announcement in the coming days with all the details!
Regards,
Bill Cox
Comments